272 Board Blogs..
The Board Blog will have the board blogging about issues effecting our industry and any topic that they find important as it relates to union issues and beyond.
Stay tuned!!
Very important DACA Meeting
Happy Easter to all Local 272 members, and your families. Reminder: Tomorrow we will have legal representatives (Lawyers) in attendance. Topic DACA: Immigration questions about citizenship, Deportations. April 2, 2018, 12noon - 4pm, join us, bring your family member for support. Membership particapation, forward this to co-workers who are off-duty tomorrow.

Come walk the parade with us Sept. 10, 2016
The Labor Day Parade, are you calling our office informing us of your particapation on Sat. Sept. 10, 2016, on 47th Street? We are going to have a great day.... see you on 5th Avenue.

Rosemarie's Retirement Party
Keep Reaching for your Dreams! Dollar Rent A Car Newark, International Airport location Rosemarie Tobias, Rental Sales Agent, joined Dollar Rent A Car 19 years ago with a passion in her heart to one-day become a teacher. Well, on August 24, 2016, her co-workers joined her, as well as the management team, to wish her well. Rosemarie studied day and night to obtain all the necessary degrees needed to fulfill her dreams. She rented her last car for Dollar Rent A Car in Newark, NJ. She goes right into a 2nd grade Elementary classroom on August 25, 2016. Teamsters Local 272's Executive Board, and the entire membership wishes Rosemarie Tobias well. Congratulations!!! Fred Alston, President ¡Todos pueden alcanzar sus sueños! Rosemarie Tobias, Agente de Ventas, se unió a Dollar Rent A Car, ubicado en el Aeropuerto Internacional de Newark, hace 19 años con un sueño de algun día convertirse en maestra . Pues el 24 de agosto del 2016, sus compañeros de trabajo le organizarón una fiesta de despedida por su última venta para Dollar Rent A Car en Newark, Nueva Jersey. Rosemarie estudió día y noche para obtener todos los requisitos necesarios para alcanzar su sueño. Ella empieza su año escolar en un aula de secundo grado el 25 de agosto del 2016. La Junta Ejecutiva Teamsters de la Local 272 y el resto de la membrecia le ofrece felicitaciones a Rosemarie Tobias. Fred Alston , Presidente

Upcoming Teamster Election info-Spanish & English
The 2016 International Brotherhood of Teamsters General Election, ballots will be sent out in Oct./Nov. 2016. If your address has changed, of course you will not receive a ballot. If your dues status is not current, you will not receive a ballot. We want you to be part of the voting process.

Archcare at Terence Cardinal Cooke Health Care Center
Archcare at Terence Cardinal Cooke Health Care Center, and Teamsters Local 272, IBT., has finally reached an tentative agreement. The memorandum of agreement was signed on today. Ready for ratification. Bruce Cooper, Esq.

Penske Truck Leasing, New York Tentative Agreement
On this date, tentative agreement has been reached between Penske Truck Leasing - New York and Teamsters Local 272, IBT., on a four (4) year contract that will be unanimously recommended by the Union Bargaining Committee to the membership for ratification.

Sept. 12, 2016 Membership Meeting at 5:30pm
Trump will fire all of us if he's elected President of the United States of America.... Please attend our membership meeting Sept. 12, 2016, 5:30pm. PLEASE CALL LET US KNOW YOURE COMING.

Forty (40) years, and still counting!!!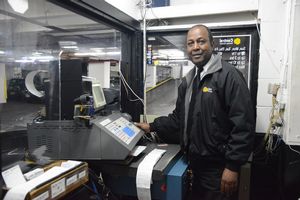 Willie Jackson Jr., joined Teamsters Local 272, in the spring of 1973. Jackson has seen it all in 40 years. I visit the garage where he manages for Central Parking System on Monday February 11, 2013, to get his views, his opinon about what he witness when he entered our general membership meeting February 4, 2013. sevevn (7) days ago. Jackson states, it was a wonderful site to have seen.

Avis Rent A Car West 54th Street "Let's get together, No Lump Sum, No Bonus"
Eddie Barrais, Service Agent states, (Without the Union, there will be no "Middle Class") Barrais has been a devoted member of Teamsters Local 272/Employee of Avis Rent A Car for thirty two (32) years May 23, 2013. Barrais states, "Education is key to a strong contract. How much do our members/employees understand.

Wake Up Dollar Members/Lets Talk!
It's time to be concern about your employment with Dollar Thrifty Automomotive Group/Hertz Corporation; your collective bargning agreement will expire August 2, 2013.... A Class Action Grievance has been filed on behalf of six (6) Manhattan/New York Rental Agents... against Dollar Thrifty Automotive Group, Inc. Article VIII Section 5.

Shawn Curry is a "Shop Steward" No Bull!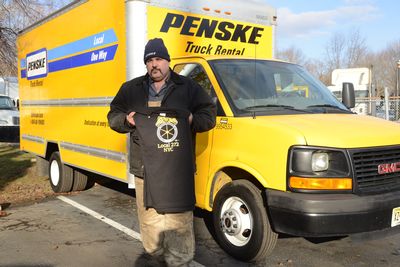 The Best, my man Shawn Curry, Shop Steward at the Dayton, NJ Penske Truck Leasing Co.,  Curry is the Shop Steward you want speaking for you at any grievance, negotiations or an arbitration session. I take my hat off to Brother Curry for his compassion toward his co-workers/members concerns.

Standing room only!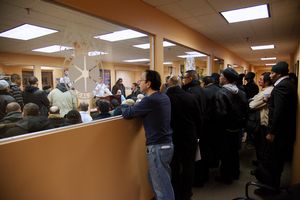 This was a great meeting, stated by members standing outside of meeting room.

Teamster Power/115 Strong Member Support
Wow!!! Members started gathering at the union's office around 3:30pm, for the 5:30pm membership meeting.  Around 4:45pm,  52 members had signed the attendance sheet already.  "115" proud members stormed the front doors at 220 East 23rd Street, Monday night.

Apple Gift Certificate Winner
Central Parking System employee/member LLoyd A Arthurs, Winner of the $1,000.00 Apple Gift Certificate Raffle drawing at the membership meeting Feb. 4, 2013.

$1,000.00 Apple Gift Certificate Raffle Drawing
On February 4, 2013, 5:30 pm,  just a few days away.  A $1,000.00 Apple Gift Certificate is up for grabs..... A Raffle Drawing of $1,000.00 will take place at our February 4th Membership Meeting. Providing, Fifty (50) or more members are in attendence. Are you kidding! I'll be there.

Looking forward to Retirement
Bennie McDonald Jr., is looking forward to traveling once again. He will be packing bags and on his way off somewhere, enjoy retirement.....  Good luck, relax and enjoy your yourself.

National Rent A Car Tech at LGA
Brother Petrauskas has been employed nearly 6 years with National Rent A Car LGA as a Rental Car Technician; he is part of a team located near Rikers Island Correctional Facilities, whereas they are responsible for the companies fleet of cars, and passenger buses mechanical repairs and maintenance. They have a great team, includes the LGA and JFK airport locations.

Urgent/Urgente
REMINDER / AVISO LOCAL UNION 272 MEMBERS/Miembros de La Local 272 Come to your Union Office for an important meeting concerning you and your family! Don't wait until it's too late!  This is a very important year for you. Do not let time go by without giving this Local, your Local a fair chance to bring to you a fair contract.

The Attorney's Garage
Ricky Rosario, Manager a 16 year member of Teamsters Garage Employees Union Local 272..... employed at the Imperial Parking Garage on Sutphin Blvd. directly across from the Civil Court House in Queens; he has the best attitude in today's world working with people. What a fun and pleasant person/member to work with.

Encouragement
Rudin Management member, John Perez attends all of our membership meetings lately. He is trying to get his Rudin Garage co-workers to the next meeting.... John marched in the 2012 Labor Day Parade with Local 272 up 5th Avenue in Sept., he has offered his services at the next upcoming Labor Day Parage Sept. 2013 of providing his DJ on a moving float up 5th Avenue.

Golfo, BA. responding to their issues.
January 10, 2013, Manager Jose Romero 18 year member, and co-worker Wilfredo Torres running the business at GMC 21st Street Garage. I spoke with them briefly after Business Agent Sal Golfo responded to their call to him, about their views about Local 272. Young men and women, respect your job as your home, take care of it, its what feeds you and your family, provides health care benefits and of course job security.

Salvatore Golfo, Trustee/BA
Salvatore Golfo, Trustee/Business Agent: at the January 7, 2013 meeting, briefly explaining to the members the Garage locations on the West Side of town from Battery Park to 59th Street that he covers.

Membership Meeting 2013
On January 7, 2013, members came out to the first meeting of the year in great numbers. We shared comments about the Parking and Rental Industry. Whats going on wthin their company, issues that concern them as well as contract talks. They brought co-workers out with them from Avis, National Rent A Car, GMC, CPS, Rudin, Impark, Car Park Edison, Glenwood, Quik Park, and few other companies.

Working Together Running the Business
Hey Teamsters at Avis Rent A Car LGA: we had a productive and positive meeting today. Issues were discussed, great team work was performed....Management and Union was proud to have witness long term employees working out their issues and concerns. 2013 starts off on the right track.

Page Last Updated: Apr 01, 2018 (09:19:31)