Shawn Curry is a "Shop Steward" No Bull!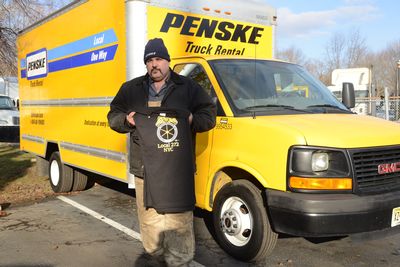 February 6, 2013, Penske Truck Leasing Co. Dayton, NJ. Shawn Curry, Shop Steward displays his Teamsters Local 272 tee shirt.....Curry just attend a grievance meeting for a co-worker from the Linden, NJ location.....
The Best, my man Shawn Curry, Shop Steward at the Dayton, NJ Penske Truck Leasing Co., Curry is the Shop Steward you want speaking for you at any grievance, negotiations or an arbitration session.
I take my hat off to Brother Curry for his compassion toward his co-workers/members concerns. He travels to service his co-workers/members to the Linden, South Plainfield, Edison, locations, as well as servicing the South Brunswick/Dayton, NJ where he works.
Shawn also drives Eighty (80) miles to our membership meetings, whereas, members are a half a mile away in NYC and fail to attend.
This is a real dedicated member in the labor movement today, he comes from a union family.
Fred Alston, President